NIGERIAN ARMY APPLICATION 2023 FORM IS OUT
To apply, you simply visit the Nigerian army online recruitment portal at www.recruitment.army.mil.ng and create an account. Then click on register and select the category you are applying for. Fill in the information required of you on the portal and once you are done, click on submit.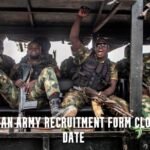 requirement to apply for nigeria army 2023.
A)Basic Requirements: are as follows
1)Applicants must be single,
2)born in Nigeria,  in possession of a National Identity
3)Card/NIN or BVN. Applicants must be physically, mentally, and medically fit according to Nigerian Army Standards. Applicants must not have been convicted of a crime by a court of law.
Enlisted Soldiers

Here are the requirements to become an enlisted Soldier: Age: Between 17-35 years old. Medical, Moral, Physical: Medically and physically fit, and in good moral standing. Citizenship: nigerian. citizen or permanent resident with a valid Green Card.
B) disqualification for 2023 nigerian army.
These are 8 thing that qualify army applicant
 age,
citizenship,
physical
 education
 height/weight
criminal record,
medical,
 drug history standards that can exclude you from joining the military.
All to note that the online application is FREE OF CHARGE. Please beware of fraudsters. Alaba Abdulrosheed Abiola and 902 others like this.
nigerian army recruitment form closing date
Nigerian Army Recruitment Form 84RRI 2023 Closing date is scheduled to end on Friday 2nd December, 2023. Applicants who wish to apply for the Nigerian Army Recruitment form must follow the registration details described on the registration portal.