List of Colleges of Nursing in Nigeria 2023/2024
With the ever-increasing demand for nurses in Nigeria, there are now a number of schools offering nursing programs. Here is a list of some of the top school of Nursing in Nigeria for 2023/2024:
University College Hospital Ibadan; Obafemi Awolowo University Teaching Hospitals Complex; Lagos State University Teaching Hospital; Federal Medical Centre Abeokuta; National Orthopaedic Hospital Enugu; and Usmanu Danfodiyo University Sokoto. Each school offers different courses and specializations to meet the needs of students looking to pursue a career in nursing.
University of Nigeria Teaching Hospita
l is a government-owned college of Nursing situated at Utuku Ozalla Enugu, Enugu State. The Hospital began early in the 20th century as a standard general Hospital for Africans built by colonial administrators.  It later metamorphosed into a general hospital on the attainment of Nigeria's independence in the 1960's.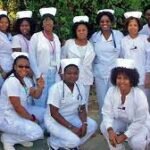 However, at the end of the Nigerian civil war in 1970, the then government of East Central State transformed it into a Specialist Hospital with effect from July 1, 1970.
The Teaching Hospital trains candidates for several programmes including g Nursing, School of Nursing, Medical Laboratory Science, Health Information Management, Biomedical Technology, Dentistry, Post Basic Nurse Anaethestist Programme, PeriOperatiye Nursing School, Cardiothoracic Nursing School, Post Basic Ophthalmic Nursing School, School of Midwifery, Community Health Officer Training.
Obafemi Awolowo University Teaching Hospitals Complex is popularly known as the OAU school of Nursing. This is government-owned is situated in Ile-Ife Osun State.
The University of Ilorin Teaching Hospital belongs to the second (2nd) generation of Teaching Hospitals in the country. The Hospital came into existence on the 2nd of May 1980 along with five other hospitals located in Jos, Calabar, Sokoto, Maiduguri, and Port Harcourt.
The Oyo State College of Nursing and Midwifery was formerly known as Oyo State School of Nursing which was established in 1949 and sited at the Old Army Barracks in Eleyele, Ibadan while Oyo State School of Midwifery was established in 1954 at Yemetu. The School of Nursing Eleyele was the first School of Nursing in Nigeria and it trains student nurses that provide nursing care for the citizenry in rural and urban areas either at the primary, secondary or tertiary level of health care settings.
School of Nursing and Midwifery is a state-owned college situated at J S Tarka Road, Makurdi, Benue State.
Ogun State School Of Nursing And Midwifery Complex is a state-owned college for training health workers. The college is situated at Idi-aba, Abeokuta, Ogun State.
School of Nursing Ado Ekiti is a state-owned college situated at Ado Town, Ekiti State. The college was established to produce health practitioners for the need of the immediate community and Nigeria at large.
Ahmadu Bello University (ABU) is a federal government research university located in Zaria, Kaduna State.
Aminu Kano Teaching Hospital is a tertiary Government Teaching hospital located in Kano, Kano State, Nigeria. It was formerly known as Bayero University Teaching hospital. The current chief medical director is Prof Aminu Zakari Muhammad.
University College Hospital, Ibadan is a federal teaching hospital in Ibadan attached to the University of Ibadan. The school of nursing is situated at Layi Ayanniyi Street, Ibadan, Oyo State.
Adamawa State College Of Nursing And Midwifery Yola is a state-owned college of Nursing located at ola Bye – Pass Road, Wuro Hausa, Yola.
Lagos State School of nursing Igando is a state-owned college of Nursing situated at Lagos University Teaching Hospital, Idi-Araba, Lagos, Nigeria.
Nnamdi Azikiwe University Teaching Hospital Nnewi Enugu State runs this federal-owned College of Nursing.
The School is a state-owned college of Nursing situated at Itigidi, Cross Rivers State. Itigidi is a commune in Abi local government area of Cross River State.
The School is a federal-owned college of Nursing situated at School Ido-Ekiti town, Ekiti State. The college is operated under the armpit of the Federal Teaching Hospital, Ido Ekiti.