How TO Download Past Questions And Answers For ESUT School Of Nursing,This are the view sample past questions and answers, ESUT utme past questions, ESUT utme answers,
This Are the view step to download ESUT POST UTME PAST QUESTIONS AND ANSWERS.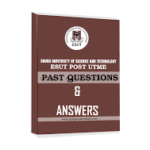 Read down you see guideline on how to get PDF download esut past post utme questions and answers
Screening Sample Past Questions and Answers
In the questions below, choose the word(s) or phrase which best fills the gap(s).
1. Without………. words he accused him directly of treachery.
A. mending
B. modifying
C. mixing
D. mincing
E. minimizing
2. They tried to cash in the people ignorance
A. under
B. on
C. against
D. with
E. at
3. Always remember to………. the lights before leaving the room
A. put on
B. put off
C. switch off
D. blow out
E. remove
4. I am disappointed the ways you conducted yourself at the party.
A. by
B. for
C. due
D. in
E. at
5. The proprietors should be blamed for such a deplorable condition in the nursery schools
A. isn't it
B. shouldn't they
C. should they
D. is it
E. wouldn't they
6. Do you mind………. another minute or two?
A. to wait
B. wait waiting
C. being waited
D. waits
7. It had been raining before the match started……….
A. isn't it
B. hasn't it
C. hadn't it
D. wasn't it
E. haven't it
8. Mary goes to school………. bus
A. in
B. on
C. with
D. of
E. by
9. The plane overshot the………. in a minor accident
A. read
B. hanger
C. runway
D. tarmac
E. railway
10. Journalists always collect and publish……….
A. information
B. informations
C. an information
D. much information
E. every information
Use of English
In the questions below, choose the word(s) or phrase which best fills the gap(s).
Jubril found that thieves had entered his house in his absence. He went to the police to report the…
(A) break out
(B) break up
(C)break-in
(D) break into
Ans: C
After the accused was found guilty by the court, his counsel… before the sentence was passed
(A) begged for mercy
(B)made a plea for mitigation
(C) made an ovation
(D) made a plea for litigation
Ans: B
The officer was compelled to… the suspect's car.
(A)seize
(B) cease
(C) size
(D) sease
Ans: A
If you are going to the market, may I… please?
(A) follow you
(B)come with you
(C) come by you
(D) come as your second
Ans: B
Thank you for the party, we really…
(A) enjoyed ourselves
(B)enjoyed
(C) enjoyed very much
(D) enjoyed too much.
Ans: B
The second and fifth terms of a geometric progression are 21 and 567 respectively find the first term and the common ratio of the progression.
(A) 3, 7
(B) 7, 3
(C) -7, 3
(D) -3, 7
Ans: B
Tunse bought a house for N1,250,000 and spent N350,000.00 to renovate it. He then sold the house for N2,000,000.00. What is the percentage gain?
(A) 40%
(B) 65%
(C) 35%
(D) 32%
Ans: D
List the integral values of which satisfy the inequality -2 < 7 – 3x≤ 10
(A) -1, 0, 1, 2
(B) -2, 0, 1
(C) 1, 2, 3
(D) 0, 1,2
Ans: A
In a class, 120 students speak English or French or both. 70 speak English and 55 speak French. How many speak English but not French.
(A) 45
(B) 50
(C) 55
(D) 60
Ans: C
The lengths of the sides of a right-angled triangle are ym, (3y – 1)m and (3y + 1)m, find y.
(A) 12
(B) 9
(C) 8
(D) 4
Ans: A
Note that, the cost of the newly updated ESUT Past Questions and Answers is two thousand naira (2,000) only for the subject's combination.
See the Payment Detail:                                                  
Account Name: SAMUEL ESSIEN UDO
Bank: UNION BANK
Account No.: 0143878451
Payment Procedure for the ESUT Post UTME Past Questions
Payment to the following bank account sent to your SMS or Whatsapp Number, either by bank deposits slip or online transfer

Also, after payment, the candidate is expected to:
Send FULL NAME ON TELLER or BANK ACCOUNT which the payment was made from + AMOUNT PAID + PAST QUESTION IN DEMAND +FACULTY + COURSE, as mail to or SMS to 08025616449
EXAMPLE:                                                                            
Name on Teller or Bank Account You Transferred From.- Frank Andrews

School e.g: UNIZIK

Faculty or Course E.g: AGRICULTURE
4. Email Address or Whatsapp Number
The PDF Past Question and Answers will be sent to your email address once payment is confirmed. You can reach out to our customer care service before placing an order.