Fed Poly Ilaro Notice: Deadline for School Fees Payment /2023
Get the latest information from Federal Polytechnic Ilaro on school fees payment deadline and how to pay online. Plus, find out what to do after you make your payment, such as getting class admit
 Fed Poly Ilaro: Your Guide to School Fees Payment & Admit Card for 2023 
Find out all you need to know about school fees payment, online payments and your admit card at Fed Poly Ilaro in this notice presented by the institute. Get up-to-date information on deadlines and class admittance!
The management observes that majority of the newly admitted students are yet to formalize their Registration on the school portal months after the commencement of the admission exercise.
Consequently, all newly admitted students in HND/ND Full-Time and Part-Time programmes are hereby Informed that the deadline for payment of school fees is Friday 11th November,2022. Any students who fails to abide by this directive should consider his/her admission canceled.
2022/2023 ADMISSION EXERCISE AND NEW DEADLINE FOR THE PAYMENT OF ACCEPTANCE AND SCHOOL FEES. The Management has graciously extended the deadline for the payment of Acceptance and School Fees to Friday 9th December, 2022.
24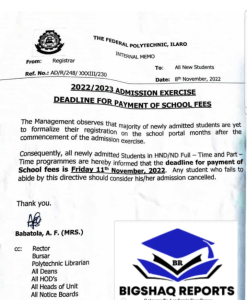 Please note that failure to comply with the deadline for the payment of Acceptance and School fees would be taken as rejection of the provisional admission. Withdrawn admissions would be given to interested candidates on the waiting list.
SIGNED
M. J. O. Fatunmbi
DR (Accademics)